Raamattupiiri
to 30.1. kello 16.00 - to 30.1. kello 17.30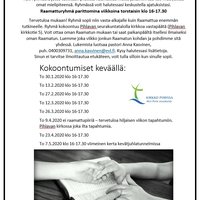 Mitä ajankohtaista ja kiinnostavaa Raamatusta voi löytää?
Raamatturyhmä parittomina viikkoina torstaisin klo 16-17.30
Tervetuloa mukaan!
Tule ryhmään, jossa tutkitaan yhdessä Raamattua mutta jokainen saa itse muodostaa omat mielipiteensä. Ryhmässä voit halutessasi keskustella ajatuksistasi.
Ryhmä sopii niin vasta-alkajalle kuin Raamattua enemmän tutkineelle. Ryhmä kokoontuu Pihlavan seurakuntatalolla kirkkoa vastapäätä (Pihlavan kirkkotie 5). Voit ottaa oman Raamatun mukaan tai saat paikanpäältä itsellesi ilmaiseksi oman Raamatun. Luemme joka viikko jonkun Raamatun kohdan ja pohdimme sitä yhdessä. Lukemista luotsaa pastori Anna Kasvinen,
puh. 0400309731, anna.kasvinen@evl.fi. Kysy halutessasi lisätietoja.
Sinun ei tarvitse ilmoittautua etukäteen, voit tulla silloin kun sinulle sopii.
Kokoontumiset keväällä:
To 30.1.2020 klo 16-17.30
To 13.2.2020 klo 16-17.30
To 27.2.2020 klo 16-17.30
To 12.3.2020 klo 16-17.30
To 26.3.2020 klo 16-17.30
To 9.4.2020 ei raamattupiiriä – tervetuloa hiljaisen viikon tapahtumiin. Pihlavan kirkossa joka ilta tapahtumia.
To 23.4.2020 klo 16-17.30
To 7.5.2020 klo 16-17.30 viimeinen kerta kevätjuhlatunnelmissa
---
Järjestäjä
Meri-Porin seurakunta
Ota yhteyttä
Vs. kappalainen
Työalana lapset, perheet, aikuiset, retriittityö. Vapaapäivät useimmiten maanantai ja tiistai.